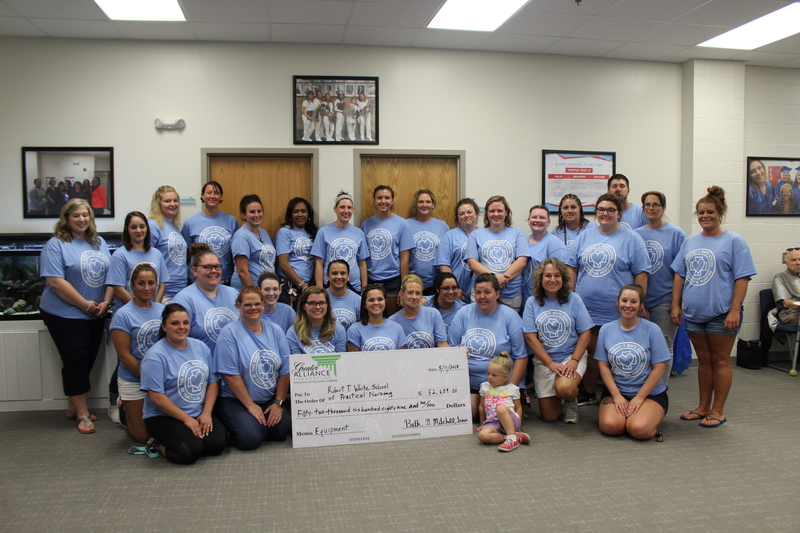 The 15th Anniversary reunion for the Robert T. White School of Practical Nursing not only celebrated the program's last 15 years, but also marked the beginning of many new learning opportunities for future students.
The Greater Alliance Foundation president Doug Schwarz made a surprise announcement during the reunion lunch on Saturday, August 11.
The Foundation, which is entering its 20th year in existence, awarded a check for over $52,000 to pay for the purchase of a new nursing simulator Anne- which will simulate a woman giving birth.
"This is a tremendous gift from the Foundation. With so may obstetrical units in the area closing it has been difficult to find clinical sites for the students. This simulator will greatly enhance the student's obstetrical learning experience," Bonnie Newton, Director of the Robert. T. White school said.
The Foundation also announced that $250,000 will be used to establish the Robert T. White Scholarship. Out of those funds two scholarships will be given to students each year who are attending the nursing school.
"This is a great way to celebrate your 15 years, a great way to kick off our 20th year as a Foundation and we are so thankful to you and the support that you have in this community through the school, your instructors and so many more," Schwarz said.
Foundation trustee Sue Gorris, Dr. Robert T. White's son Andy White and Jack and Madge Peters, two of the founders of the school, were also in attendance.
Superintendent of Alliance City Schools Jeffery Talbert said the school district will continue to support the nursing school in accordance with the vision set by Robert T. White and Jack Peters 20 years ago.
"Someone at sometime had a great vision. They understood a need and they acted upon that need to make this a reality," he said.
He said 6 years ago he met with Schwarz and Peters to see what the district and GAF could do to meet the needs of the Career Center and community.
Out of that conversation came the vision for the Career Center's new location in the renovated basement of the High School.
He said the School District seeks to meet the educational needs in the community and not just in grades preschool through 12th grade, but into adulthood as well.
The Nursing School continues to grow. Six years ago the school had less than ten graduates in the class. Now the enrollment is up to 40 for the incoming fall class.
"If you build it they will come and they are here," Talbert said.
He added that the school will continue to have the support of the School District.
"The foundation and Dr. White, we appreciate the vision you had 20 years ago. As Superintendent we are committed to that dream and will make sure this is an opportunity where our community can take advantage this of for another 20 years," he said.