Administrators Toured Four Businesses
In an effort to better prepare graduating students for the workforce, members of the Alliance City School District administrative team toured local companies to learn what employment opportunities are located in the community and what the companies are looking for in young employees.
"The goal was to hear first hand from those people what they need from us, so we can better articulate to our staff what the companies' needs are," said Jeffery Talbert, superintendent.
Beginning at Coastal Pet Products, Talbert; Jason Dixon, assistant superintendent; Kirk Heath, treasurer; Christine Gibowicz, curriculum director; Shawn Jackson, Alliance High School principal; Tina Arbitter, AHS assistant principal; and Greg Gemberling, director of the Alliance Career Center toured the facilities to see what skills are required to be an employee.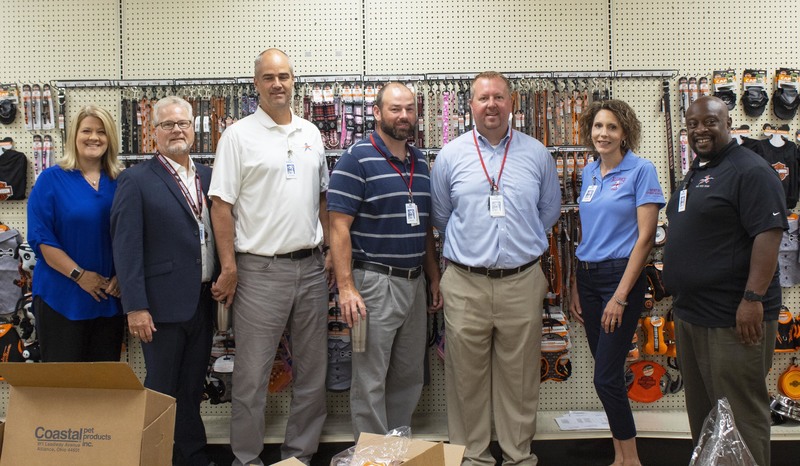 Lead by owner Jim Stout, the administrators toured the nine-acre facility viewing everything from the office area to the factory floor. Coastal Pet is one of the leading manufacturers of pet supplies including toys, collars, leashes and more.
"People said you can't make a living making dog collars," Stout said. "I built all this with no mortgage."
The main requests from Stout for quality employees were the students be responsible and knowing basic life skills.
"Just the value of showing up is needed," Stout said.
This was a consensus among the other business visited as well. MAC Trailer Manufacturing Waste Division's general manager, Jeff Sheen, explained the policy set in place for their probationary employees. Every employee hired is on a probationary period for their first 90 days. There are trainers who visit each probationary employee every day to create a bond and offer support to the employees as they learn their jobs at MAC Trailer.
"They're not lost in the crowd once they're hired," Sheen said. A personal connection and bond is necessary to keep employees and MAC goes above and beyond to make their employees feel welcome and comfortable at there facilities.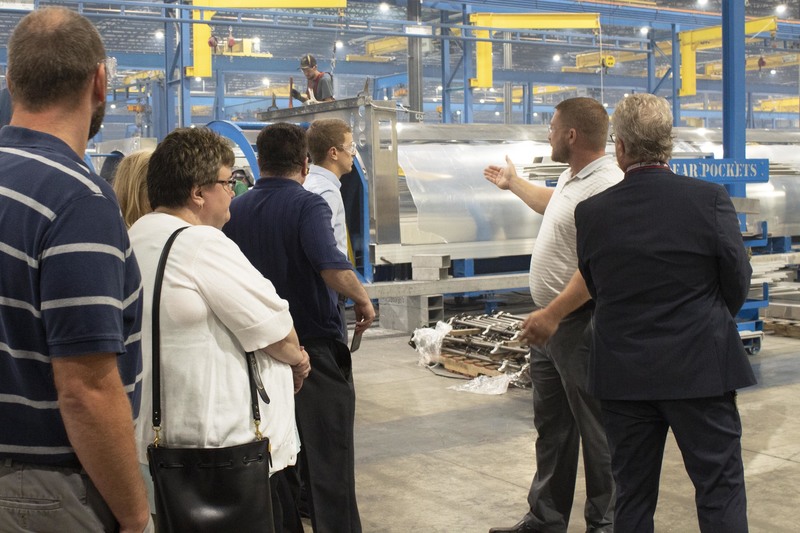 He also explained how the younger generation values job satisfaction. They want to know how to do a job from start to finish and they want to be able to say they build the trailer they see passing them on the street. The younger employees are not happy with simple tasks; they want to accomplish an entire project.
Along with Coastal Pet Products and MAC Trailer Manufacturing Waste Division, the administrative team visited MAC Trailer Manufacturing, Winkle Industries and H-P Products on Wednesday.
During the tours, the administrators saw a number of former students working and succeeding at their jobs.
"We saw multiple Alliance Students in these plants," Talbert said. "Working in these industries. To see them working and being successful was a proud moment for the principals who worked with those students on a daily basis, and for me as a superintendent."
The tours provided business with the opportunity to explain how ACS can better prepare every student to enter the workforce right out of high school, not just students in the Career Tech programs. The administrators viewed the various businesses to see what job opportunities are available within the community. Everything from welding to manufacturing to running machinery is available at world-renowned companies. For the employees who prove themselves over a period of time, leadership opportunities become available allowing them to make a career within the companies.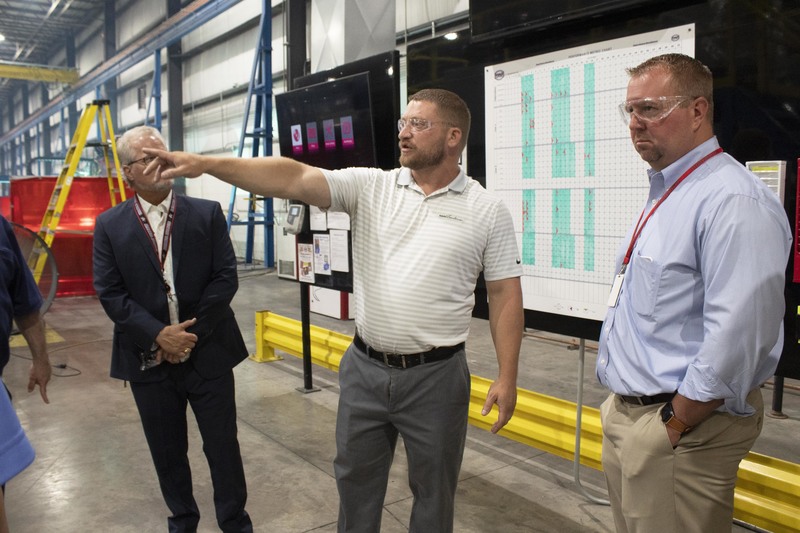 "I thought the tours were very informative," Talbert said. "I really appreciate our local business owners giving up their time- time is a very valuable commodity. For them to take two hours or more to show us what their needs are shows us their commitment to our students and to the community."
The information gathered will be used by ACS to create a plan to allow teachers and students to tour the local companies and experience for themselves what's available for the students following graduation and the importance of preparing them for the workforce now so the companies don't have to later.
Talbert hopes this is just the first round of tours and more will take place in the future. There are numerous companies in Alliance who have similar needs as the four already visited and ACS wants to ensure all students are prepared to be good employees whether they begin immediately after graduation, enroll in college or enlist in the military.
"I'm looking forward to doing this again and touring more facilities," Talbert said.